KidLit Author Events July 8-14
I hope everyone enjoyed celebrating our Independence Day. My family had a great time in Fredericksburg at the National Museum of the Pacific War. Although I expected it to be there, it was still a thrill to see Sherry Garland and Layne Johnson's gorgeous book VOICES OF PEARL HARBOR prominently displayed in the children's book section.
Here's what's going on this week:
July 8, Tuesday, 7:00 p.m.

Murder By The Book
John Sandford and Michelle Cook, YA Authors
John Sandford and Michelle Cook will sign and discuss UNCAGED (Knopf for Young Readers) the first book in their new Singular Menace series. In UNCAGED, Shay Remby arrives in Hollywood with $58 and a handmade knife, searching for her brother, Odin. Odin's a brilliant hacker but a bit of a loose cannon. He and a group of radical animal-rights activists hit a Singular Corp. research lab in Eugene, Oregon. The raid was a disaster, but Odin escaped with a set of highly encrypted flash drives and a post-surgical dog.
When Shay gets a frantic 3 a.m. phone call from Odin—talking about evidence of unspeakable experiments, and a ruthless corporation, and how he must hide—she's concerned. When she gets a menacing visit from Singular's security team, she knows: her brother's a dead man walking.
What Singular doesn't know—yet—is that 16-year-old Shay is every bit as ruthless as their security force, and she "will" burn Singular to the ground, if that's what it takes to save her brother.
July 9, Wednesday, 10:00 a.m.

Katy Budget Books
Dee Leone, PB Author
Local author Dee Leone will visit KBB for a special story time with her new book BIZZ AND BUZZ MAKE HONEY BUNS (Grosset & Dunlap). Bizz and Buzz are two bees who want to make honey buns. So, they ask their friend Bear for his recipe. Although the directions seem simple, Bizz and Buzz make mistake after mistake, like finding a little "flower "instead of adding a little "flour." What will "bee"-come of the honey buns?
July 12, Saturday, 2:00 p.m.

Blue Willow Bookshop
Debra Winegarten, MG Nonfiction Author
Join author Debra Winegarten for a discussion of her new biography OVETA CULP HOBBY: COLONEL, CABINET MEMBER, PHILANTHROPIST. Oveta Culp Hobby (1905-1995) had a lifetime of stellar achievement. During World War II, she was asked to build a women's army from scratch – and did. Hobby became Director of the Women's Army Corps and the first Army woman to earn the rank of colonel. President Eisenhower chose her as Secretary of Health, Education, and Welfare, making her the second woman in history to be appointed to a president's cabinet. When she wasn't serving in the government, Hobby worked with her husband, former Texas governor William P. Hobby, to lead a media empire that included the Houston Post newspaper and radio and TV stations. She also supported the Houston community in many ways, from advocating for civil rights for African Americans to donating generously to the Houston Symphony and the Museum of Fine Arts.
This first biography of a remarkable woman has been written for middle school readers. It traces her life from her childhood in Killeen to her remarkable achievements in Washington, DC, and Houston. Debra Winegarten provides the background to help young adult readers understand the times in which Hobby lived and the challenges she faced as a woman in nontraditional jobs. She shows how Hobby opened doors for women to serve in the military and in other professions that still benefit women today. Most of all, Oveta Culp Hobby will inspire young adults to follow their own dreams and turn them into tangible reality.
July 13, Sunday 2:00 p.m.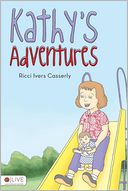 Barnes & Noble, The Woodlands
Ricci Casserly, Children's Author
Join Ricci Casserly  as she signs KATHY'S ADVENTURES  (Tate) the story of a little girl named Ricci and her favorite doll, Kathy. Ricci and Kathy are the best of friends, and Ricci will do anything to care for Kathy. But as time passes, Ricci plays with Kathy less and less. One day when Ricci goes to her grandmother's house to see Kathy, Kathy is gone. Come along with Ricci as she learns never to give up hope and follows her dreams of reuniting with her best friend.